Making things with love
and connecting through alpaca
From Peru with Love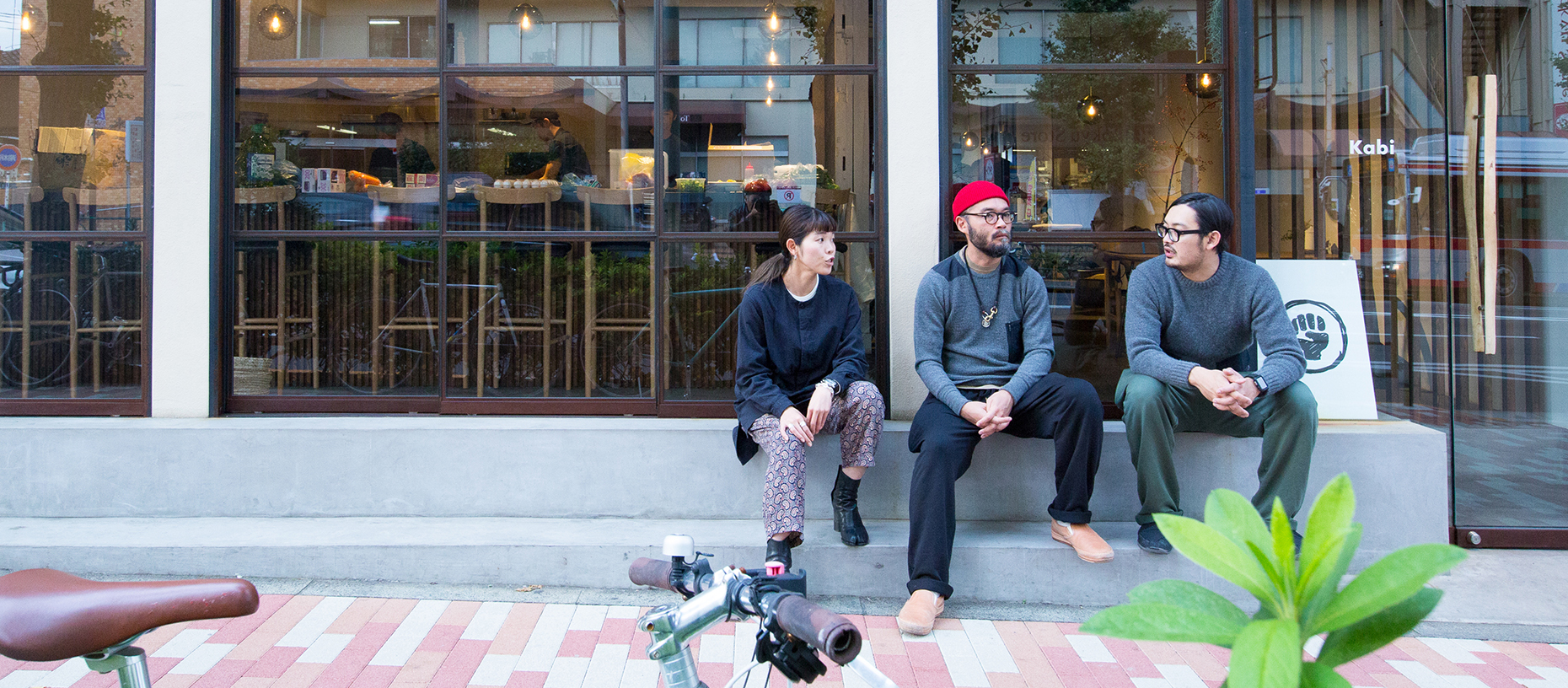 Alpaca yarn sutures Denmark,
Peru, and Japan in an organic collaboration
FIELDWORK is a place for not only staff, but also customers and any other interested parties, to collaboratively create the future of Snow Peak Apparel. Snow Peak and The Inoue Brothers, which manufactures ethical alpaca yarn products, announced the release of collaboratively produced items in November 2018. Below, Snow Peak Corporate Officer and General Manager of Planning and Development Lisa Yamai and Satoru Inoue discuss how they met and what they plan for the future.
Peace × Ourdoor=Snow Peak
Lisa

I first found out about The Inoue Brothers when I saw your products by chance at Dice&Dice in Fukuoka. I bought a pair of pants and a stole. I thought they were great. And later Yoshida-san from Dice & Dice said he'd introduce me to a "crazy pair of brothers." When we met, I was like, "These are the guys that made the pants and the stole!"
Inoue

It was the exactly the same for me. I went to an exhibition at Dice&Dice, and there was a Snow Peak shop on the first floor, which I fell in love with right away. I asked Yoshida-san about it, and he told me it's Snow Peak. We're based on Denmark and have lived abroad for a long time, so we didn't know about Japanese outdoor brands. Then, Yoshida-san introduced us.
Lisa

It was a wonderful meeting.
Inoue

We've been primarily making very basic, alpaca knitwear, but have had the idea that it might be interesting to do something with a high-tech outdoor brand. Looking at various outdoor brands, however, we found that ultimately they make military items. They provide militaries with gear.
Lisa

Water pressure-resistant and waterproof fabrics, etc.
Inoue

Right. They tend to boast things like, "All our products are also used by the Czech military." So when I first saw Snow Peak, it left a strong impression as a truly peaceful outdoor brand. And that made me fall in love with it. And when we met, we got along and agreed that we should do something together.
Alpaca is not very flammable. It's pretty fire resistant, so it fits well with the Snow Peak image of chatting around a fire. It has natural functions such as adjusting the wearer's temperature, which I also thought made it a good match for Snow Peak. So really, it's a natural collaboration.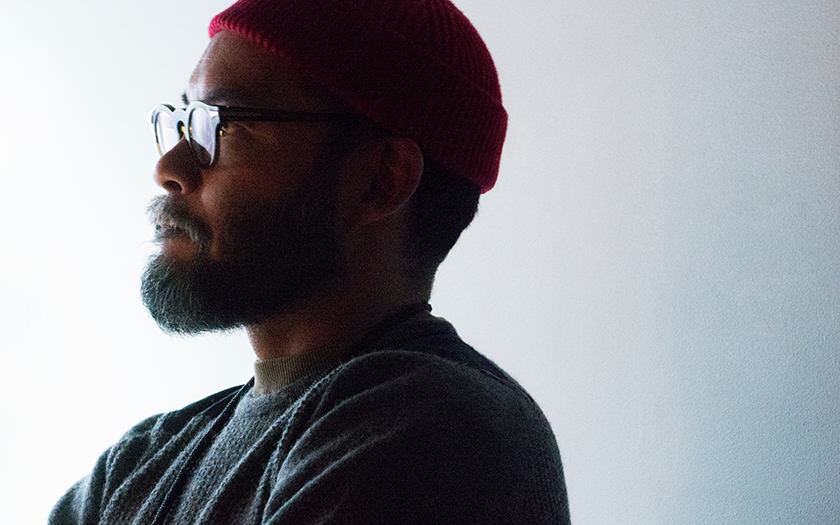 "When I first saw Snow Peak,
it left a strong impression
as a truly peaceful outdoor brand."
Natural Born Collaboration
Lisa

That's true. It was an inevitable and natural collaboration.
As you said, nature, naturally, has functions that respond to the outdoors. Alpaca and sheep that grew up in the wild, fabrics such as cotton and linen, and animals and plants, they all grew up in nature. Snow Peak definitely pursues technical functionality, but natural functionality is also important to us.
I was also super interested in alpaca. Generally, arranged in terms of low to high altitudes, it goes sheep, yaks, alpacas, and cashmere. Wool is easy to harvest, but alpaca live at altitudes of 4,000m and above. I was especially uninterested in your production in Peru using yarn harvested from wild alpaca, which are becoming scarce. And when I wore your products, they were also very comfortable.
Inoue

Some live more than above 5,000m above sea level. We understand the benefits of alpaca because we've spent a lot of time in Peru. There's a lot that you can't understand without firsthand experience. In a similar vein, when I actually used Snow Peak stuff while camping, I found they worked great. Experience is crucial. To properly understand Snow Peak, you have to go camping.
Lisa

Right after we met, you came to the Snow Peak HQ campground. That made me really happy.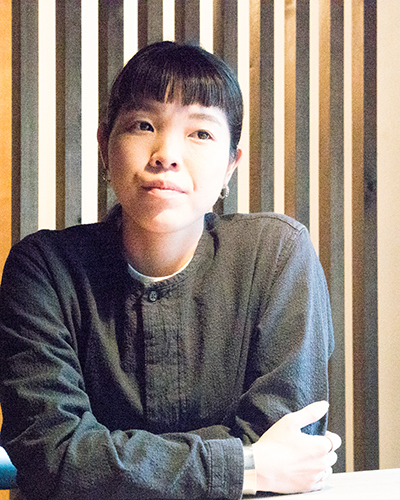 Inoue

It was super fun. The survival camp we went to much later in Sweden was also a lot of fun.
Lisa

Ever since we met, it's all been fun for me. Really! We have similar stockists too, but even without that, I respect what you do and think we share a similar vibe.
Inoue

Absolutely.
Lisa

Since we first met, I did feel that we shared a similar sensibility for object-making. Remember we went to negotiate with "CHALIE VICE"?
Inoue

Yes. That reminds me that the other day, when we were working on something with JAL, we were asked if we were also doing something with Snow Peak. At first, I was worried that maybe we weren't supposed to, but when I asked, the JAL person said, "Oh not at all, I just personally really like Snow Peak so I was curious."
Lisa

That's so great!
Inoue

It happens a lot. I strongly feel that it's no longer about a camping trend, but rather people actually wanting to spend time in nature.
Lisa

Yes, it's finally becoming to normal to want to do that.
Inoue

So many people are arriving at Snow Peak now because the brand has been doing that kind of activity for so long. I think it's amazing. I hear people professing their love for Snow Peak all the time!
Lisa

That makes me so happy. It's also true for me. People often ask me, "Did you collaborate with the Inoue Brothers!?"
Inoue

The same thing then. That's why we could do this natural collaboration and I hope we can continue to work together. You know, I want do a lot more with you.
Lisa

Me too!
Inoue

I'd like us to make simple things that highlight our best qualities and that we could put out fairly quickly. Maybe this sounds funny, but when you spend too much time on design and production, you have less fun time to spend together. Work is just a means to an end, so I'd like to prioritize leisure.
Lisa

That's true! That's why our meetings always end so quickly.

The "High Gauge Waffle" was a part of the collaboration between Snow Peak and the Inoue Brothers. Additionally, the "Solid Jacquard Crew Neck Sweater," "High Gauge Knit Trousers," "Neck Warmer," and "Woven Brushed Scarf Hoodie" were produced. All are made of Peruvian Alpaca yarn.
Clothing is a universal medium
Lisa

I feel the Inoue Brothers make ethical, truly humanistic clothing, which I find very impressive. Snow Peak also doesn't really make clothes out of an interest in fashion. The fashion is just a means to communicate something more essential. In that sense I feel great empathy with you.
Inoue

What is fashion anyway? Fashion changes all the time and it's hard to grasp. What I can say with certainty is that I like clothes, but feel a strong aversion to the fashion industry. I can explain why too. But when asked to define the fashion industry, no one can answer because it has no substance. People do have opinions about what's wrong with the fashion industry though. What I don't like about it may be the same thing that someone else likes about it. Its flashiness for example. Maybe we don't want to do fashion because we don't want to be involved with certain parts of the industry.
Lisa

Yes. I think fashion is about sensibility and fun, and not digging deep. And why is it this way? Because consumers don't look for rules and principles either. With any product, someone thinks they want to make it, someone actually makes it, someone feels they need it. I feel uncomfortable using the word "fashion" as a catchall for that whole process.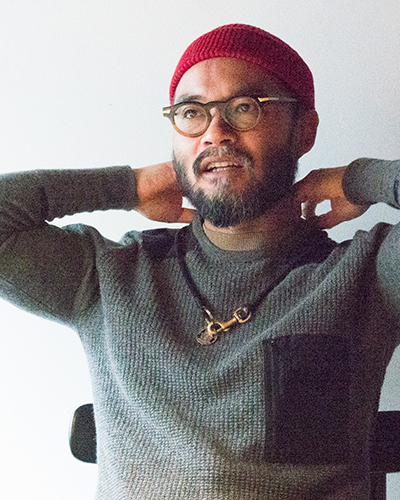 "Our biggest connection is the way
we make things with love
for other humans."
Inoue

Right. Or "trends.
Lisa

Exactly. The Inoue Brothers make things using the appeal of fashion, but communicating something essential. And I really respect that. You show the entire production process.
Inoue

Yes. All of it. But what I think is wonderful about fashion are the clothes rather than the fashion. Clothes have the power to make its wearer feel cooler or cuter than before they wore it. Food and music have a similar power.
Music, food, and clothes are universal. Everyone can understand them. They're tools for evoking emotion. They're a kind of media. So in that sense, I'm happy I make clothes. If the Inoue Brothers had made something else, we would have encountered some other material and we might not have gained as much recognition. Clothing has a really wide reach. At the rice reaping camp that we participated in as a part of the Local Wear Tourism in Sado, there were the chairman and his wife, as well as university students who could only attend by borrowing money from a friend, and they all wore Snow Peak, laughed, and shared a fun experience. That kind of experience, I think, will help them better understand the essence of Snow Peak. I used to work at an ad agency, but maybe this is the method of essential branding and marketing.
Lisa

Really? No way!
Inoue

Yeah, I was a graphic designer at a Danish ad agency. I thought the experience of that camp coupled with the concept of Local Wear was extremely powerful. Usually marketing is about exaggeration, if not outright lying.
Lisa

To make things look good.
Inoue

Right. So usually, it's about appearances. To do something this honest and have it function as a marketing tool that promotes understanding about Snow Peak is remarkable. It's like you're saying, "If you come here and don't fall in love with Snow Peak, you don't need to come back!"
Lisa

I was so glad to see your children having so much fun too. Your wife was saying it was the first time the kids didn't ask to touch an iPad for two straight days.
Inoue

Yes! I was shocked. They didn't ask to see my iPhone or iPad once. As soon as they woke up, they were preoccupied with catching grasshoppers and praying mantises.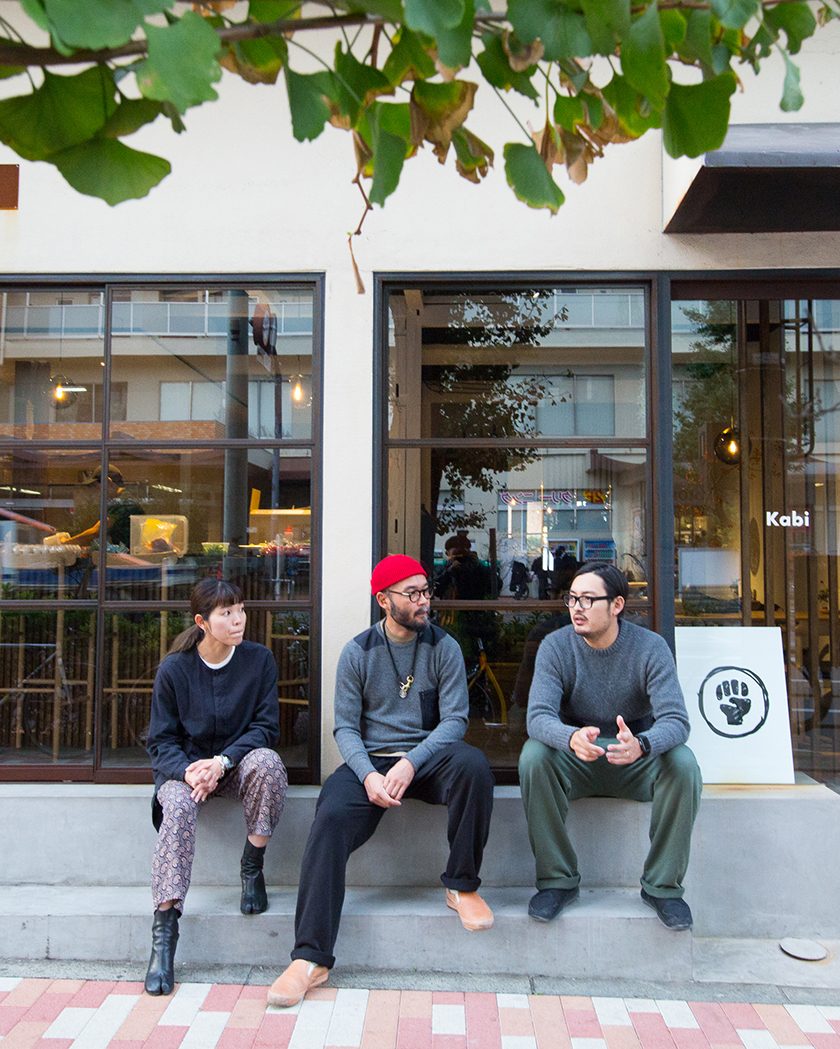 Lisa Yamai (left) with Satoru (center) and Kiyoshi (right) Inoue of the Inoue Brothers, who convened in Japan for the first time in a while. It seemed as if the three might leave for Peru together immediately after the talk.
From Peru with Love
Lisa

We talked about this before, but I hope we can continue a mutually comfortable partnership even after the first collaboration is done.
Inoue

Absolutely. I hope we can make a long-term, standard product. Something that doesn't need to be updated much. Maybe something that gets increasingly basic, like underwear. Outerwear has to reflect trends and innovations, but innerwear probably won't ever change.
The Inoue Brothers currently only make alpaca products, but we're thinking of natural cotton. We would do everything from materials to sewing in Peru since we're doing this to create jobs in Peru. So it's kind of a "Local Wear" too.
Lisa

Our thought is that the outdoors can make people happy, and that the clothes and camping equipment are means to that end. The Inoue Brothers like clothes and make clothes, but it also has the happiness of the producers in mind. Our biggest connection, I think, is the way we make things with love for other humans.
Inoue

Yes, we're very similar in that respect. That kind of core won't be affected by trends, like fashion is, so I hope we'll be able to work together for a long time. We also, like Snow Peak, want to make things that will allow people to reestablish their connections to nature. I think that's our mission from now on.
Everyone's so distanced from nature. I think that's why they get sick and depressed. If you were constantly connected to nature, you would be truly happy. Put simply, nature is tremendously powerful. I hope we can reconnect people to that power together.
Lisa

I'm ready to go to Peru!
Inoue

Yes, let's go!!
THE INOUE BROTHERS
The Inoue Brothers is a brand based in Osaka and Copenhagen. It was founded by two Japanese brothers, Satoru and Kiyoshi Inoue, both born and raised in Copenhagen, Denmark. They combine Japanese sensibility with Scandinavian simplicity and call their designs, which are based on their love for Peru, where the products are produced, "Scandinasian design." Satoru also works as an art director in Copenhagen and Kiyoshi also works as a hair stylist in London. Nearly all of their income from those jobs are invested in the Inoue Brothers project.
photography : Great the Kabukicho
Edit : Kei Sato